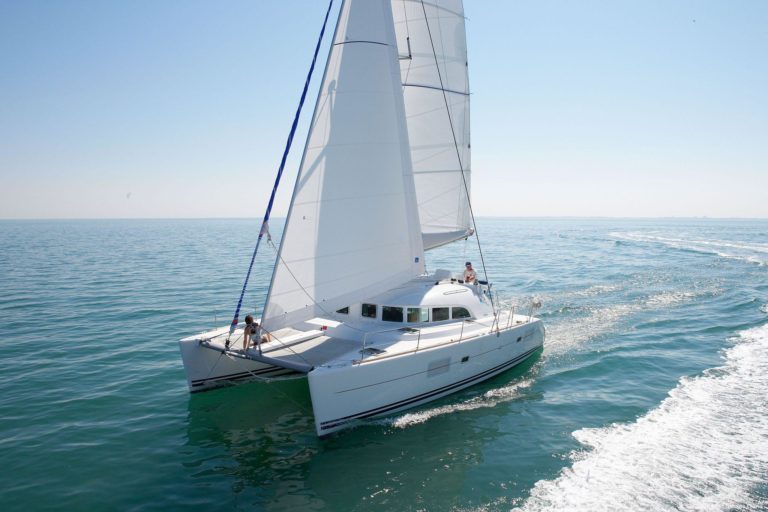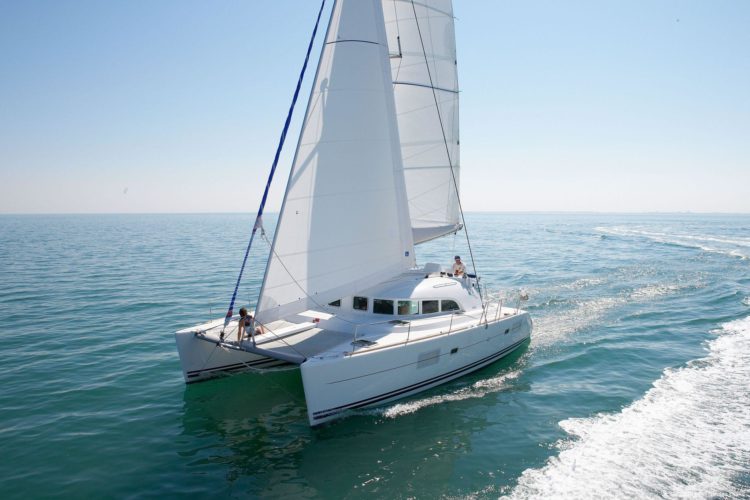 For interior space, easy sailing and a shallow draft, nothing can beat a catamaran, and Beneteau's Lagoon 380 does all that and more in a stylish and affordable package, writes Geoff Middleton
A CAT above the rest
The popularity of catamarans is growing. Once, the choice of only a select few private owners and some charter companies, the multi-hull fraternity is enjoying a mini boom.
Although still far more prevalent on the smooth waters of the north coast of Queensland, cats are being seen in increasing numbers farther south. While they may not be everyone's first choice when it comes to a new boat, cats certainly have their advantages – not the least of which is space. With a beam in excess of 20 feet, a cat can offer virtually double the usable space of a single-hull yacht.
Established in 1984, Lagoon is one of the big players in production catamarans. Based in France, Lagoon is now part of the Beneteau group and has produced more than 1500 boats to date with sizes ranging from 38 to 67 feet.
Lagoon has produced over 500 of the 38s and we were fortunate enough to enjoy a day out on Port Phillip Bay on the third of this model to arrive in Melbourne.
While the 38, or 380 to give it its proper title, might be the smallest of the Lagoon family, it is not short on volume or features. Sporting three full cabins including a large owner's stateroom taking up virtually all the starboard hull, the 380 has the room of a 50 or 60-foot monohull yacht.
The 380 is available in two levels of trim called Club or Premium. As the name suggests, Premium is the higher level of trim as tested while Club is the more functional level better suited to the charter market than private ownership.
LUXURY LAYOUT
Today's boating experience is about single-level living on a layout that includes all the crew. The Lagoon is a perfect example with a big cockpit leading through a sliding door to the saloon and galley. A sliding window opens to the galley so the chef can interact with those outside. If the weather turns foul, simply slide the window and door closed and eat indoors where six or eight seated at the table. Interestingly, the coffee and dining tables are interchangeable so you can have the latter either in or out as weather or mood permits.
The saloon is a light and airy affair with the now trademark vertical windows all around giving a 360-degree view of the bay. The windows give consistent headroom throughout the saloon and also cut down on sunlight and, therefore, heat that could otherwise enter the saloon. It's a well thought-out system that allows for plenty of light and views with functional use of the area.
The galley has twin stainless steel sinks, a three-burner gas cooktop with oven, a bigger-than-normal front-opening fridge and adequate, though not abundant, storage.
A cooler for drinks is located just outside the galley in its own compartment under a seat, but I'd be tempted to replace this with a proper portable fridge/freezer for longer trips.
On the port side of the saloon is the nav. station with room to mount a plotter screen and other electronics if desired. There's an opening chart table and an adjustable stool which is neat and tidy, but I think I'd opt for a nice swivelling chair rather than the stool.
Moving down into the cabins, we must first visit the owner's stateroom. Complete with queen-size bed and office desk, it can be closed off from the rest of the boat with a sliding companionway door. The en suite has a huge walk-in shower, a pump-out toilet, and vanity. Our test boat was fitted with an extra holding tank as the standard boat only comes with a holding tank on the port side.
In the port hull the Lagoon offers a bow and stern cabin, both of which have ample storage for your gear with the aft cabin boasting a queen-size bed and the bow cabin a double. In between there is a sizable bathroom with a manual loo and holding tank, and a shower. As with the owner's cabin, headroom is generous at around 1.95m or 6ft5in. All cabins have opening ports and hatches to catch a sea breeze for ventilation and added to that, the big, rectangular windows in the hulls give a light and airy feel, a lovely view of the outside world and, because they have a semi-frosted effect, prying eyes cannot see in.
Back on deck, I found high-quality hardware from Harken including self-tailing winces on the cabin top for the halyards and jib sheets, eight substantial mooring cleats and Harken adjustable genoa cars. The mainsail track runs across the back of the cockpit and is easy to adjust.
One thing I did find handy were the huge storage lockers in each bow which are totally separate from the rest of the boat and act as collision bulkheads. These are big enough to climb into and could easily hold a rubber duck and engine – that is, of course, if you didn't have it on the standard davits aft.
There's also a big locker at the base of the mast that holds the 300lt water tank. Another tank can be fitted here as an optional extra, or it's ideal for a generator, we're told.
Access to the water for a swim is best done from the port side. This is where the stainless steel swim ladder resides, and deck shower.
GETTING STARTED
Catamaran sailing is all about ease and the Lagoon is nothing if not easy. All the control lines for sailing lead back to the helm station so that the helmsman can basically operate everything from the double seat provided.
If the wind isn't favourable, you can simply flick on the two diesels and motor off. Our test boat was fitted with the optional larger engines – Volvo D1-30s. Standard are 20hp Volvos, while Yanmar engines are also an option with 3YM20 or 3YM30s available.
The engines are housed outside and accessed from the boarding platform, as opposed to some cats where the engines are in the aft cabins. This gives quieter operation down below and also a larger engine bay for all-round access to the engines and filters.
The twin Volvos give the Lagoon 38 a comfortable cruise up to eight knots at WOT with a fuel burn of around six litres an hour per engine. Drop it back to around 2000rpm, though, and the speed is seven knots with a frugal burn of two litres an hour per side.
The standing rigging consists of a single-spreader, anodised, deck-stepped mast of 15m (49ft) with hull-mounted chainplates for the shrouds and a crossbeam-mounted forestay.
The main is a big, roachy, fully-battened job with an area of 47m² and the furling genoa has an area of 30m². The main is hoisted on a 2:1 halyard and has luff cars for ease of hoist, and lazy jacks and a bag for ease of dropping and stowage. There are also two reefing lines should the weather blow up.
Unfortunately on our test sail it didn't blow up and we were faced with a gentle sea breeze. The Lagoon is a powerful boat under sail, though, and has a low wetted surface area so it doesn't need much to get going.
After hoisting the sails and aiming for a nice beam reach, we were soon cruising along at four to six knots in about seven knots of breeze – very relaxing.
One argument about cats is whether to fit centreboards or fixed keels to the hulls. Lagoon has gone for keels for a few reasons. Firstly, they argue that the longer and more linear profile offers higher resistance to lateral drift and gives better buoyancy. Second, it offers protection when grounding (either accidentally or intentional) and it's simple and basically foolproof. Hence, the 380 has long keels designed a little deeper than the rudders. The system works well for either private or charter boats and offers reasonable up-wind performance.
While on design, it's worth noting that the symmetrical hulls are designed by Van Peteghem and Lauriot Prevost which might not mean much to the average Australian sailor, but suffice to say, they designed and dominated the Open 60 multihull class in Europe for around 20 years and know a fair bit about what makes a multi work.
The hulls are claimed to be the widest on the production market giving more interior room and added buoyancy for greater load-carrying capability. The designers maintain they also have one of the highest bridgedeck heights which, added to the 'gullwing' design under the bridgedeck helps eliminate 'slamming' of the water under the boat. As anyone who has spent time on cats knows, this is one of the bugbears. I've been on some where this is a problem to the point of utter frustration, when even a small amount of chop will slam under the bridgedeck creating a booming effect. Not good.
I came away from our day on the bay thinking that catamarans do have their distinct advantages. Room is one that can't be argued. They offer zoned living and cabin privacy that can't be found in a monohull of similar size. They offer a stable platform in most conditions so that you don't spill your chardy and so that the crew can get about easily even rough weather – great for families with kids. They offer speed when running or reaching and although they won't point as well as a monohull, you can always turn on one or both motors and motor-sail into a headwind.
On the downside, their beam means that they don't fit into normal-size marina pens so you'll either have to have a super-wide pen or as David Beck from Sundance Yacht Sales said: "All marinas have ends that you can park on."
Cats seem to appeal to buyers who are coming from powerboats, or yachties who want a change to their boating lifestyle. Either way, they offer a comfortable and roomy alternative with easy handling and excellent manoeuvrability.
Lagoon have the benefit of backing from Beneteau, so warranty and service backup won't be a problem.
The cats are well fitted out and very comfortable. The production aspect means that price can be kept down. They are easy and fun to sail, come with a good standard of equipment and you can bring most of your mates out for a sail without tripping over each other.
If you're in the market for this style of boat, they're well worth a look.
HIGHS
Hard to beat if you're looking for a roomy boat
Easy to sail
Economical to run
You won't spill your drink
Excellent world-wide backup
LOWS
Owners might find it hard to get a berth
Would like to see more cupboard space in the galley
Holding tank should be standard on both heads